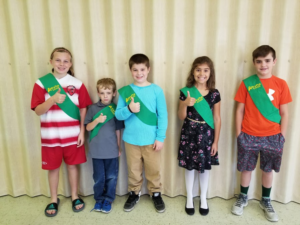 Shaping the next generation is vital to our ministry. Grace Kids can grow in Christ and connect to other kids their age through various opportunities including:
Kids Connection Classes – classes are offered for nursery, preschool, grades K&1, grades 2-5,  grades 6-8 and grades 9-12. Sunday school begins at 9:30 am​​ (September thru May)
AWANA–  takes place on Sundays at 10:00 am (June thru August) and 10:45 am (September thru May) and is divided into 3 age groups: Preschool- Cubbies, Grades K-2- Sparks, Grades 3-5- Truth & Training. Learn about the God who love you very much through games, lessons, snacks & prizes!
MOPS KIDS– meets the 1st Thursday of the month from 6:00 pm-7:30 pm in conjunction with our MOPS ministry. Children enjoy Bible lesson, games, crafts, activities and snacks. (During the school year)
Vacation Bible School– held each summer at the end of June. Check back for more details!
Summer 5 Day Camp​- Child Evangelism Fellowship offers a week long camp centered on the message of Christ.